Metal Finish Samples
We offer a range of brass, bronze, steel, nickel and gold plated finishes.
We aim to deliver our frame samples within 3-5 working days. We will contact you if, for any reason, they may take longer.
It has been such a pleasure to work in creative collaboration with Patrick Ireland Frames. Between us, we have designed some wonderful pieces which truly enhance every project.
Nicola Fox Linton
Patrick Ireland's expertise and friendly team made the whole design process run smoothly. They produced a high quantity of mirrors in a short period of time and the quality was perfect. We love the fact that they are a family-run business where all the items are made in the UK.
Taylor Howes
Patrick and his team have been supplying us with the most beautifully crafted picture frames and mirrors for all of our projects over many years. I love their designs and enjoy working with them to create bespoke pieces for our clients. A wonderful and professional team always.
Katharine Pooley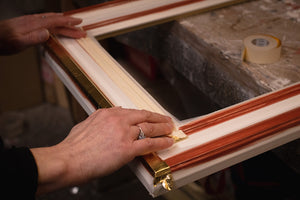 Expert Craftsmanship
Made and finished by hand
We design, make, and finish all our frames in-house at our workshop. Each frame starts life as a plain timber moulding, before being built to the desired size and prepared for its bespoke finish. We prime most finishes with gesso to create a smooth base, giving our frames a seamless, uninterrupted finish, even at the mitred corners.
We finish our frames by hand and offer an impressive number of finishes, including classic waxed timber, high-gloss lacquer, metal leaf and gilded options.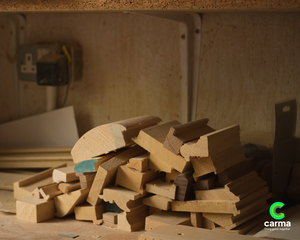 Sustainability
Timber sourced from sustainable forests
In a continued effort to minimise our impact on the environment, we only work timber suppliers who can guarantee that our timber has been produced sustainably.
We also work with Carma to improve our social and environmental impact by planting a tree on your behalf for every new order placed. Carma collaborates with the Green Task Force, which works with veterans and is responsible for planting more than 3 million trees in and around the UK.
Where possible, we use recyclable and recycled packaging materials for our frames and mirrors. The sustainable packaging options have improved over recent years, but we continually strive to improve our packaging and welcome suggestions and product recommendations.