Private Commission Map of India
Title: Private Commission Map of India
Frame Reference: Star
Frame Finish: Farrow & Ball Studio Green
Mount: Linen conservation mount
Glass: Standard float
Finishes

Available in all Patrick Ireland finishes or any bespoke finish. Click here to explore our finishes, or contact us to discuss a bespoke finish.
Glazing

The majority of our glazing is done with standard float glass, but we also work with specialist glass, high performance glass, which provide different levels of clarity and UV protection, depending on your needs.

If you are not sure what glass you require, get in touch and we can advise accordingly.
Ordering Information

All orders are made completely bespoke from start to finish and currently take approximately 6-8 weeks. Please get in touch to place an order or to discuss your requirements.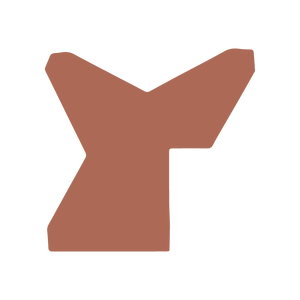 Frame Cross Section
A representation of the shape of this frame profile.
Patrick Ireland's expertise and friendly team made the whole design process run smoothly. They produced a high quantity of mirrors in a short period of time and the quality was perfect. We love the fact that they are a family-run business where all the items are made in the UK.
Taylor Howes
We have used Patrick Ireland Frames for many years and we, and our clients, have always been delighted with the pieces they have produced for us.
Rebecca Stuart
Stuart Carlisle Interiors
Patrick Ireland has assisted us with framing for many years. We trust them with some of our client's most treasured possessions, elevating these pieces with their excellent eye and craftsmanship. They have also produced a number of bespoke mirrors for us, helping us develop our designs and making our vision a reality. 
Niki Fraser
We have built a strong partnership with Patrick Ireland Frames and appreciate their attention to detail and their flawless execution of our vision.
Nicole Fletscher
Patrick and his team have been supplying us with the most beautifully crafted picture frames and mirrors for all of our projects over many years. I love their designs and enjoy working with them to create bespoke pieces for our clients. A wonderful and professional team, always.
Katharine Pooley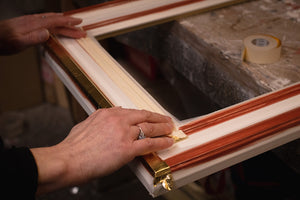 Expert Craftsmanship
Made and finished by hand
We design, make, and finish all our frames in-house at our workshop. Each frame starts life as a plain timber moulding, before being built to the desired size and prepared for its bespoke finish. We prime most finishes with gesso to create a smooth base, giving our frames a seamless, uninterrupted finish, even at the mitred corners.
We finish our frames by hand and offer an impressive number of finishes, including classic waxed timber, high-gloss lacquer, metal leaf and gilded options.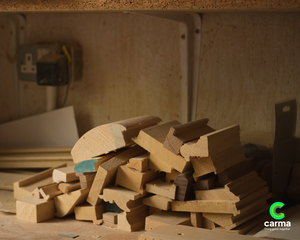 Sustainability
Timber sourced from sustainable forests
In a continued effort to minimise our impact on the environment, we only work timber suppliers who can guarantee that our timber has been produced sustainably.
We also work with Carma to improve our social and environmental impact by planting a tree on your behalf for every new order placed. Carma collaborates with the Green Task Force, which works with veterans and is responsible for planting more than 3 million trees in and around the UK.
Where possible, we use recyclable and recycled packaging materials for our frames and mirrors. The sustainable packaging options have improved over recent years, but we continually strive to improve our packaging and welcome suggestions and product recommendations.